On Monday the 19th of March, Dutch theater maker Thabi Mooi joins the artists in Akko for the international exchange project Boxes in My Alleys. Keep an eye on the Dancing on the Edge website and Facebook channel to stay updated on their collaboration. The first result of this community art project will be an open air performance in Akko on the 26th of March.
Local Palestinian artists have already started their research and artistic process, collecting stories, memories, fantasies and dreams of the local residents – from the youngest generation to the golden age generation. The people of Akko will be encouraged to tell their stories using puppets and theater props. Their stories will be recorded and reviewed together, so that everyone working on this project is included both in the artistic process and the result.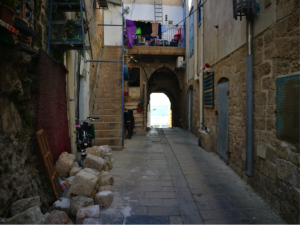 Thabi Mooi (NL) joins the local team on Monday the 19th of March to work with the other artists and residents. She will give workshops and collaborate on the presentation of the project. Since her graduation in 2012, Mooi has specialized in site-specific performances in which audiences are given a special, (inter)active role.
Akko is an ancient city, a historical place that combines the Crusader Period with the Ottoman Arab culture. The old city of Akko has a lack of resources and suffers from poverty and a high rate of unemployment. In the alleys of this old city center the creative process takes place.
The performance takes place at 17:00 on the 26th of March 2018 at Weizman Street 5 in the old city of Akko and will be the pilot for this project to further develop into different neighbourhoods or cities.
Boxes in My Alleys is a collaboration between QumraHouse and Dancing on the Edge, and is funded by the Dutch Embassy.