Five days, five stories of migration, war, adventure and hope
Each day of Five Nights / خمسة ليال explores a new story from 1001 Nights. Although they are bound together, each performance stands alone too, and can be experienced on its own. With this personal journey through a world of migration, war, adventure and hope, we want to share the winter afternoons at the closing of the year with you. And lentil soup!
In Five Nights / خمسة ليال Akram Assam explores memories from his life in Iraq, together with Khadija Massaoudi. As a boy, Akram would listen to his grandmother's stories on the rooftop of his house in Bagdad. She would retell legends of Ali Baba, the sailor Sinbad, Aladdin and the lamp from 1001 Nights under the starry night sky. When she was in the mood, friends, family members, and Akram himself would make appearances in the stories. Now the stories re-emerge, woven with his experiences and those of other travelers of today: foreigners in Bagdad, Iraqis who have fled the chaos, and new Amsterdammers from less-safe parts of the world.
In Five Nights / خمسة ليال fairytales transform into contemporary realities and back in both word and movement.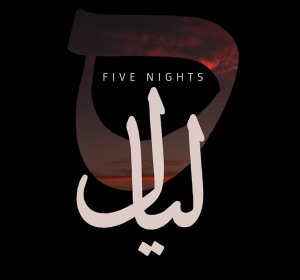 Concept, text, direction & performance Akram Assam performance Khadija Massaoudi text Chris Keulemans video Muhanad Rasheed music Gary Shepherd aka Streamer light design Akram Assam dramaturgy Natasja van 't Westende technical production Noah Voelker production Marjolein Bergboer pr Noah Pel, Fazle Shairmahomed duration 1 hour language Dutch, English & Arabic
Five Nights is a performance of Akram Assam and Publieke Werken, in collaboration with Podium Mozaïek and Dancing on the Edge, supported by Fonds Podiumkunsten en Amsterdams Fonds voor de Kunsten.
For this performance you need a Corona entry pass. At your arrival you will be requested for your QR-code in de CoronaCheck-app or a print from CoronaCheck.nl.